nora website: The complete guide to the nora universe
The nora emergency call app can be used by anyone in Germany who finds themselves or observes others in an emergency situation and requires rapid assistance from the police or the fire and rescue service.
The one-stop source for all information concerning nora
The public website nora-notruf.de is a part of the nora emergency call app project and is intended to present and explain nora and answer questions about it.
Here, we have compiled all essential information on nora, including detailed step-by-step instructions and an extensive FAQ section.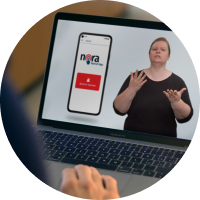 Understandable information for everyone
As nora places special emphasis on accessibility, the website content and in particular the detailed step-by-step instructions are provided not only in German and English, but also in Easy German and German Sign Language .
Thus, all users can familiarise themselves with the emergency call app at their leisure so that they can use it quickly and reliably in an actual emergency situation.
Support for users of the emergency call app
Users of the app can get in touch with our support team via a contact form or by e-mail.
Problems, suggestions and questions are logged using a ticket system, answered by our support team and forwarded for further processing as needed.
The German emergency app is called nora. What will you name your emergency app?
The possibility to send emergency calls via mobile apps without the need to speak is a huge step in removing barriers and enhancing accessibility. And immensely important for people with disabilities in emergency situations.
The design of our emergency call app system makes it possible to rapidly implement it in other countries or for other use cases. It can also be adapted to individual parameters and conditions or a different infrastructure in your country. Want to find out more? Contact us!