nora PSAP web app: web app for receiving and handling emergency calls
The emergency call app system nora lets people call for help in emergency situations – easily and with just a few steps on their mobile phones, without the need to speak.
Emergency calls via the emergency call app nora are sent directly to the public safety answering point (PSAP) – the responsible emergency control centre of the police or the fire and rescue service. The operators handle incoming app emergency calls using the PSAP web app.
Information and function scope of the web app for emergency control centres
The PSAP web app displays all incoming emergency calls, and allows the operators to take them directly.
All information transmitted with the emergency call is displayed at a glance – the location, the nature of the emergency, the number of persons affected and, if it's needed, further information on the person making the emergency call – for instance health conditions and disabilites.
A chat function enables direct communication with the emergency caller for prompt resolution of any unresolved questions.
In addition to emergency call handling, the PSAP web app is also equipped with a function for exporting emergency call data. Additionally, it registers violations of the terms of use, so that – in the event of repeated emergency calls without an actual emergency – appropriate action can be taken against improper use of the emergency call app.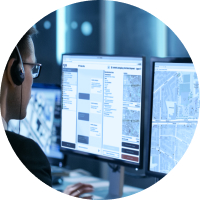 Technical requirements
In order to accommodate the extremely heterogeneous conditions of the emergency control centres, we implemented our control centre application as a web app that only requires a current browser – Firefox, Chrome/Chromium or Edge.
Two-factor authentication guards against unauthorised access.
An upcoming expansion stage of the emergency call app system will include an interface to the many different emergency dispatch systems.
Training and support
The work in emergency control centres is focused entirely on rapidly handling all incoming emergency calls. So that control centre operators can prepare for working with the PSAP web app and work with it efficiently from the very first minute, we have conducted numerous live training events and provided detailed training materials in text and video form for independent learning. Users can afterwards validate the knowledge they have acquired in a self-test.
Additionally, a test and training environment was rolled out well in advance of the start of the emergency call app system to enable control centre teams and new staff members to familiarise themselves with the app.
In the event of time-critical issues and problems in live operation, emergency control centres can contact our support and our operations team by phone 24/7.
The German emergency app is called nora. What will you name your emergency app?
The possibility to send emergency calls via mobile apps without the need to speak is a huge step in removing barriers and enhancing accessibility. And immensely important for people with disabilities in emergency situations.
The design of our emergency call app system makes it possible to rapidly implement it in other countries or for other use cases. It can also be adapted to individual parameters and conditions or a different infrastructure in your country. Want to find out more? Contact us!