nora emergency call app: Conceptual design and implementation of an emergency call alternative not requiring speech
The emergency call app nora is a mobile app for Android and iOS. It connects persons seeking assistance directly with the responsible emergency control centre for the police or the fire or rescue service.
In collaboration with the Ministry of Interior of the State of North Rhine-Westphalia and on behalf of the German federal states, we developed nora as an alternative to emergency telephone calls to the emergency numbers 110 and 112.
Our experience as a telephony/telecommunications provider and the expertise enhanced in the course of the sayHey project for simyo created the perfect starting parameters for the development of nora.
Functions and features of the emergency call app
nora is designed to function as a full equivalent to voice emergency calls – but it can do much more.
The most important functions of the mobile emergency call app include:
Location detection
nora identifies the current location of the device so that assistance can be sent to the right location even if the caller is unable to pinpoint their location precisely.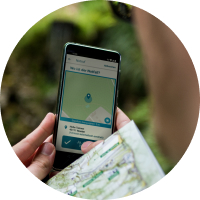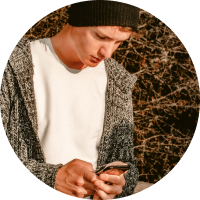 Emergency call without speech
nora is an accessible alternative to voice emergency calls, and thus particularly suitable for persons with hearing or speech impairments.
Emergency key questions
Using no more than five questions, each with no more than five possible answers, nora prompts the caller to describe what happened. The responsible emergency control centre is determined automatically on the basis of the answers and notified of the emergency. The emergency control centre can then already dispatch assistance to the identified emergency location.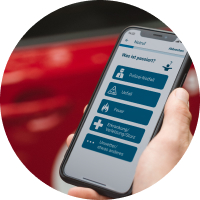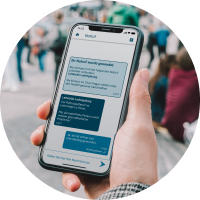 Chat-based communication
If questions remain, emergency callers can communicate with the emergency control centre via a chat function.
Silent emergency call
The app enables callers to initiate a silent emergency call for situations in which callers do not wish to draw attention to themselves or their call.
When the silent emergency call is selected, the app does not display any notifications or trigger any acoustic signals on the mobile phone. Additionally, the control centres are informed not to call back in the event of further questions.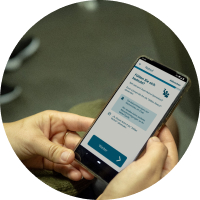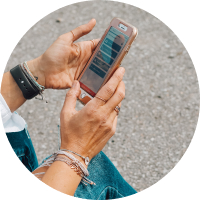 Demo mode
The emergency call app may only be used in the event of actual emergencies. However, nora also comes with a demo mode so that users can practice using the emergency call app. This way they can practice initiating an emergency call step by step – just without actually contacting the emergency control centre.
Simple and complex at once
One of the greatest challenges in designing nora was how to pack the complex technical, functional, legal and data protection requirements into a single highly intuitive, easy-to-use interface.
After all, nora is not only supposed to be accessible to anybody, but also to rapidly help people in emergency situations to obtain the assistance they need. In situations in which every second counts, and in which the user may be under stress, rapid comprehension and immediate usability can save lives.
At the same time, the app must transmit sensitive data and initiate sophisticated technical processes. And determining the correct emergency call information is key to ensuring that the right emergency control centre is called.
To meet these challenges, our UX experts additionally consulted an agency for accessible language as well as the Competence Center Self-Determined Living for People with Sensory Disability North-Rhine Westfalia in order to create a maximised-accessibility app that can be readily understood and used by people in emergency situations – despite all complexity.
Technically, we realised nora using React, React Native and PostgreSQL, along with other technologies. In the project, we also use Prometheus, Grafana, Sentry, Pretix, Redmine and AlchemyCMS.
The expertise of the emergency control centres was at the basis of creating a query tree that derives the key emergency information in the form of a sequence of five questions, for which there are no more than five answers each.
However, nora is more than "just" a mobile app. To find out what else is included in the emergency call app project, check out:
What users are saying about nora
Dear nora team, today I had to make my first emergency call using the app. A year ago, I wouldn't have known how to call for help because of my deafness. Then I just happened to find out about nora. And what can I say!? It worked like a dream! That's a really incredible idea, and you implemented it perfectly. Thank you! Thank you for giving me a little more independence.
I've already downloaded the app and registered. This app is fantastic. Particularly for emergencies and rapid assistance when the normal emergency call numbers go down. With the app, you can always be sure of getting help when you need it. Regardless of whether the problem is an accident, a distress situation or medical issues.
I recently heard about the nora app, and downloaded it right away. The demo mode is extremely helpful, I think the app can make emergency calls under stress a lot easier.
This app can save your life.
I find this app well crafted. It's easy to use, readily understandable, the contrast of the user interface makes it suitable for persons with vision impairments as well. Simply a top-class app.
Help without voice calls? Now possible!
We recently provided a run-down of the right apps for emergencies, but naturally enough, the question arose: What about people who can't make voice calls?
The emergency call app Nora now offers a solution. It lets you summon help without making a voice call, and is intended to help persons with speech or hearing impairments. We're thrilled! 💚
If you want to download a good emergency call app, choose the nora emergency call app
The emergency call app nora is a strong example for reduced barriers.
As of recently, women in Germany at risk of domestic violence can also call for help using the nora emergency call app, according to Simone Lindfeld from Freiburg Police Headquarters. "'It's received in our emergency call centre just like a 110 emergency call, where it's handled in chat mode if needed - the location of the emergency caller is also provided. That's a huge opportunity. The more women who are willing to report domestic violence at the first signs, the greater the chances that relationship disputes don't end up as femicides.
The German emergency app is called nora. What will you name your emergency app?
The possibility to send emergency calls via mobile apps without the need to speak is a huge step in removing barriers and enhancing accessibility. And immensely important for people with disabilities in emergency situations.
The design of our emergency call app system makes it possible to rapidly implement it in other countries or for other use cases. It can also be adapted to individual parameters and conditions or a different infrastructure in your country. Want to find out more? Contact us!